Hello dear friend, and thank you for your interest!
The story of our project have started in our local country in 2007 year with the meeting of old friends. We opened flow art school in 2009, then in 2011 we made workshop with fire props for students. In the beginning we were also reselling great props from HomeOfPoi and FlowToys. Then we have started to produce our first branded led props (poi, staffs and etc.). Our shop was working only with local Russian market for all the years since 2011. We have got lots of experience during all this years and finally are ready to present our products all over the world. Our students, friends and customers have left plenty positive feedbacks that is why we are sure in the quality of our props. Many artists from different countries are interested in our products, because they have reasonable price and great quality. At the end of 2017 we have started to export it around the world!
---
Among our achievements and unique developments

In 2014 we were the first who developed and integrated into our pixel pois Image Stabilization and a system that tracks the speed of props rotation. The speed of images rendering in our props is up to 4540 rows/second, and it automatically changes depending on how a user spins. At the same time, this speed in other manufacturers' props rarely exceeds 1500-2500 rows/second, which means strong image compression or spreading at different rotation speeds. Also, the images spreading should be adjusted manually. Only in 2018 other manufacturers offered the "similar" function in beta-version.

In 2016-2017, we developed a new generation of reliable and affordable props, and an option for beginners - AeroPoi (it is one of the first budget models in which one can create their own modes). Also, at the beginning of 2017, we were the first in the world who presented programmable LED fans and staffs which lighten all along.

In 2018 we developed unique cases and designs of the new pixel hoops and fans. Now there are no analogs in the world, which are compatible in the quality of design. We do not use "foam plastic" in our hoops as other world manufacturers, wires are not visible from the outside and batteries are well-hidden. Besides the shatterproof case, our hoops are very convenient for spinning and even allow users adjusting the balance.

We were the first in the world to develop uniquely shaped programmable contour fans. And in 2020, a whole series of unique, durable and comfortable fans was updated and created - PolyFans (read more).
---
We have started our Instagram in 2017, our facebook and English website NEOPOI.COM started at summer 2018. Currently at spring of 2021 our project was rebranded to a NEOFLOWART (read more).
Our project contains: local flowart school, showroom, workshop, service center. We cooperate with different theaters, clubs, flowart schools. Also we sponsorship local festivals and conventions. As example: we sponsored and supported The 1-st Russian Poicon Convention - IG: @poi_con and other local small events.
Our mission? We just like to spin and love to create amazing equipment! We are pleased to know that the artists that use our props are gifting the audience around the world vivid impressions and emotions! This gives us the motivation to work every day, to make our props even better, more functional, more convenient and more reliable!
We will be glad to get acquainted with new friends from other countries and hope that our products will be enjoyed by everyone!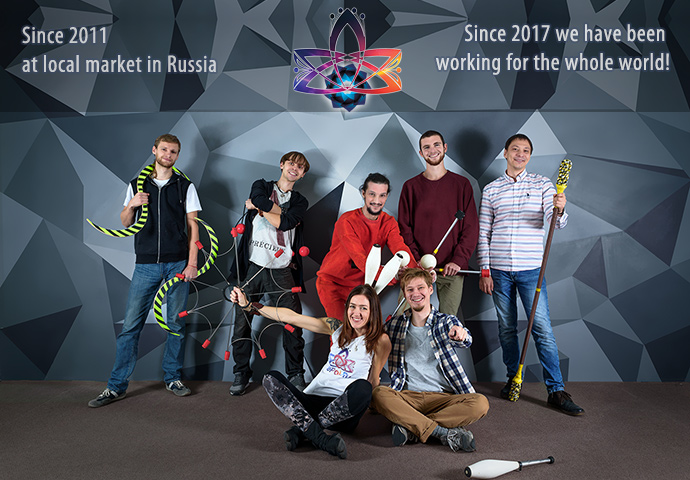 *In photo: our main team, also many thanks to people who supported us: programmers, theatres, artists, engineers, freelancers and etc.